1. "Bareec" application for smartphones is an electronic program that encompasses a cluster of "Bareec" activities through gamification targeting students participating in the program.
2. The users of"Bareec" smartphone application are:
a. Students
b. Teachers
c. Heads of Bareec teams in schools
d. Educators
e. Application administrator
3. The application administrator is responsible for demonstrating the mechanism of the application to the App users and solving bugs in the application.
4. "Bareec" teachers are responsible for encouraging their students to engage with the App activities, as well as following upon their students' posts, taking into consideration the deletion of all posts not related to the program activities.
5. "Bareec" App automatically detects the top 10 students/players.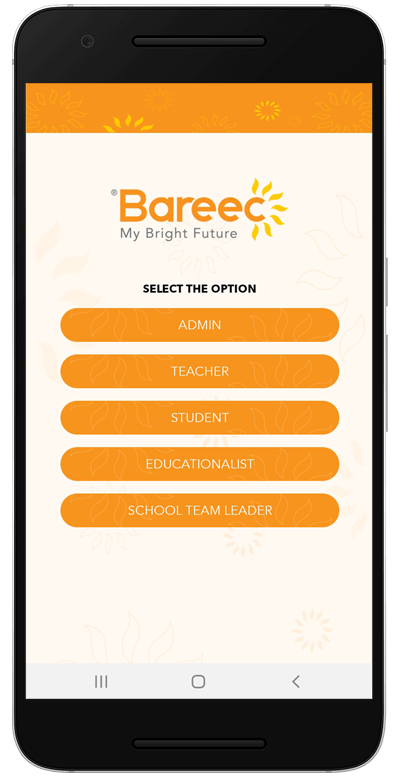 6. By the end of "Bareec" activities, towards the end of the academic year, "Bareec" follow-up and supervision committee meets the App administrator to assess the students' posts.
7. The committee looks over all the students' posts, then contacts their teachers to delete all posts unrelated to the program's activities.
8. After deleting unrelated posts, a new automated list appears (top 10 app players). Reviews and deletions processes are repeated until the final list of winners is settled.
9. The names of the top 10 students/players in "Bareec" App are submitted to The Chair of "Bareec" Executive Board for endorsement. The Chair then submits the list of the Top 10 Players to the Assistant Undersecretary in the Ministry of Education for Educational Development and Activities for approval. The approved list is transferred to the competent authority in the ministry, the Assistant Undersecretary for Financial Affairs to take the necessary action.
10. The value for "Bareec" Smartphone Application Award is:Top ranking to the fifth place: (KD 250) two hundred and fifty dinars.The sixth place to the tenth: (KD 200) two hundred dinars.